ORCHARD PARK, N.Y. — Things are about to ramp up at one Bills drive. The players were off Tuesday, but the plan is being put in place for a visit from the New England Patriots
The Bills are riding a little momentum heading into their divisional matchup against the defending Super Bowl champions. The defense that let up more than 50 points against the Saints and Chargers just put together a solid performance against one of the top offenses in the league in the Chiefs. That can only help as they now have to stop Tom Brady and company.
"Sends you into a week where you need to have confidence against the defending champs and arguably one of the best, if not the best, quarterbacks to ever play the game," said Bills defensive coordinator Leslie Frazier. "You need to go into this game with some confidence as you're preparing and we should have that as we get ready for this ball game. With so much on the line, here we are in late November and we're in the playoff hunt, so for our defense, there's a lot at stake and it should be pretty easy to get focused in on what we have to get done."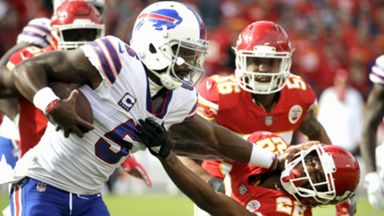 Against KC, the Bills allowed 181 passing yards and 55 rushing yards.
On the offensive side, the Bills will need to keep pace, even if the defense is performing well.
"Well, that's why I'm coaching. I mean, if I didn't think I had a chance, I wouldn't be here," said Bills offensive coordinator Rick Dennison. "Of course I think I got a chance. I love this team and I believe in what we're doing. I'm going to work. I just started watching [and] they're a tremendous team. This will be a big challenge for us, but that's what we're here for, to go out there and win games.
The Bills will be back on the practice field Wednesday to start getting ready.